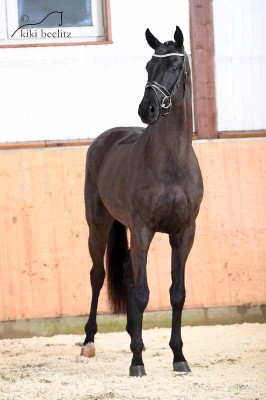 Don K
Han., black, 2013, height 174cm
Breeder: Herbert Kruse, Hamburg
Cover fee: 900€
TG-semen: 500€ portion
Admitted for Hannover, Rheinland and Westfalen as well as all southern german breeding unions.
Oldenburg on request, admition.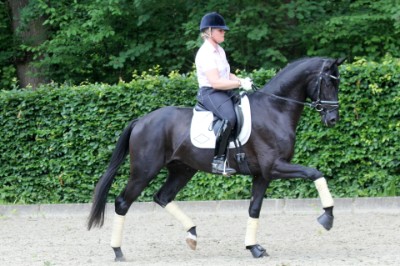 With Don K we offer you another breeding success by Herbert Kruse. Gently raised, this high, elegant silky black horse presents itself to you, with amazing quality. During his 14-Tage-test in Schlieckau in spring last year was this elegant sporty energy driven draw attention to himself and his movements. The judges placed the note 9,5 several times. The high basic stride in combination with the famous left the Körung to be a selfrunner. With the positive Körurteil it went uphill from there. With only a few but always decorated starts, was it possible for Don K to qualify himself almost directly for the final of the Hannoveraner Championat of the 3 year stallions.
Well deserved success – Father Don Nobless has next to Dancier and Don Davidoff the all above all blood of the legendary Donnerhall twice in his ancestry. At his time, Don Nobless one of the prizepeaks at the PSI-auction and was now under the saddle of Susan Pape able to collect several victories and highest rankings on german top tournaments like Hagen, Berlin or Verden. In the season 2015 always with fantastic results up to 75% decorated, he was able to become winner of the qualification for the Nuremberg Burgpokal in Schenefeld. Last year there were first international victories on the CDI´s in Wellington/USA and Cappeln as well as the perfect jump in the Kingsclass of the Grand Prix.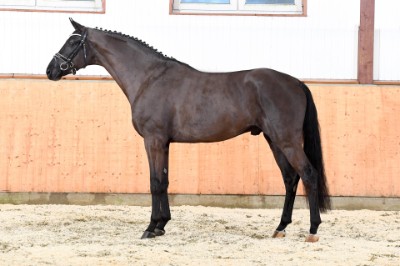 Don Ks seamless Motherly line. In his pedigree he unites thru his Father Don Nobless the aforementioned genes of Donnerhall with the international asked for bloodstreams of stallions Sandro Hit and Weltmeyer. The known mare of the Dollinda brought next to numerous up to the heavy class successful dressage horses a number of licensed stallions. To mention as an example are here the premium stallion Laurice, der Grand Prix success Wildbach and the in Westfalen strongly frequented Polytraum. This pedigree is internationally successful as well thru the in the USA breeding and sports succeeding Baroncelli.
Because of his billiant way of moving and this nothing to wish for sports career, we can hardly wait to see the first foal year of this big athlete.
Gestüt W.M.GmbH, Buchholz 5a, 27374 Visselhövede
Tel. 04262-91 88 700 oder 0177-8510616