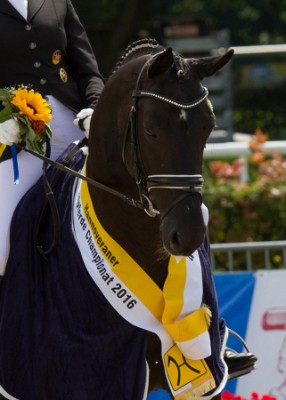 Bon Coeur
Han., black, born 2012, height 171cm
Breeder: Birgit Tietjen, Taaken
Approved for Hanover, Oldenburg, Westphalia, Rheinland
and all Southern German breeding societies
Stud Fee: 900,- Euro fresh semen
Frozen Semen 500,- Euro per Portion
Strong in his movements premium stallion of the Verdener Körung 2014, Dressage winner of his 30-day-test, Hannoveraner Champion 2016 and twice vice-league champion in Warendorf!
"Bon Coeur" - literally translated "Good Heart" with his good heart at the right spot is this exceptional movement strong, talented black horse completely fulfill the expectations that are put under the saddle without a problem, maybe even exceed. In his 30-day-test in Schlieckau, left our "Benni" the entire field of highly qualified participants behind him and was able to take the dressage part with a 9,1 note as well as achieving a tremendous breeding index of 150 points. The dream point of 10,0 was seen several times. He was able to show that there was no coincident involved when he came to his first sport test. Again, he was rewarded with the highest notes of 9,0. What followed was the title of Hannoveraner Champions 2016 after wins in the Riding horse and dressage horse tests. Proof also was found at the Bundeschampionat in Warendorf how extremely strong and light footed at the same time this young stallion can move while he keeps perfect rythm and is able to present himself in almost unlimited flexibility. It is second year in a row that Bon Coeur can be besashed as vize-champion.
Fascinating movementmechanics can undoubtedly also bee seen in his descedents. Characterized by Sandro Hit blood on the mothers side this premiumyear convinces with six qualified foals for the Deutsche Fohlenchampionat in Lienen. Multiple winner foals as well as an amazing price at the Verderner Auction are speaking for themselves.
Best dressage genes cause the brilliant talent in his movements and make out the fascination of Bon Coeur. His father, Benetton Dream was Bundeschampion of the 3 year old stallions 2007 and was qualified, being 5 and 6 for the Bundeschampionat. At 7 years he was highly successful in the heavy class and was 8 when he took part in the Nürnberger Burgpokals. He can now point to several Grand Prix winnings and moved 2013, as olympic hope, to Tinne Vilhemson Silvfén to sweden. He has now 153 breeding points and is absolutely elite. The Mother Father Sandro Hit also is very convincing by what he has achieved (Bundeschampion, Worldchampion 6 year dressage horses) as well as his excellent inheritances (numerous Bundeschampions, Dressage worldchampion, several breed survey winners, breeding with world cup successes and being victorious in the Grand Prix). In third generation we find traditional hannoveransches attainment blood thru Carismo (winner in his time) v. CalypsoII, who let in the mare ancestry of the Lusitania to several international victorious descendants in both sectors of the tournament. Specially in combination with Sandro Hit was Calypso II able to serve with highly successful dressage horses. The result can also be seen in our Bon Coeur, a big part of the strength in his back and the ever active hind legs can be admitted to the interesting connection to the jump genes.
"Bon Coeur" due to his sportive career and the highly potential foal year cannot be missed from the stage of dressage.
Gestüt W.M.GmbH, Buchholz 5a, 27374 Visselhövede
Tel. 04262-91 88 700 oder 0177-8510616