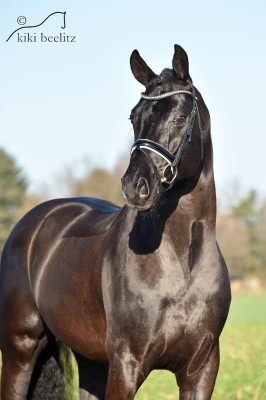 Fantastic
Han., black, born 2010, 174 cm height,

breeder: Wilhelm Geldmeier, Stemwede
Cover fee: 800€
TG-semen: 400€
Approved for Hanover, Oldenburg, Rheinland, Westphalia
and all Southern Germany breeding societies
After a break due to injury finally arrived where he belongs – right at the very front!
From the first moments Fantastic impressed. Jet black with a big he caused quite a stir. Equipped with three first class basic paces and an amazing interior, he presented himself at the 30-day-test, where he especially impressed with his brilliant rideability. This tremendeous rideability and his imperturbable being enabled him to have a strong start after several breaks caused by injury. His first tournament in 2014 was rewarded with a 8,4 in a dressage test. Last year he achieved to be qualified Deutschen Bundeschampionat of 6 year dressage horse which caused him to received unlimed admission as a stallion. Not enough, his frist start in a dressage test in the class M Fantastic was able to turn into a victory for him. Finally, with unlimited access to traning that should set the way for a successful coming tournament season.
Only the best dressage genes come together in this presentable pedigree Fantastic has to offer: His Father Fürst Romancier was a Main premium winner himself, was rewarded with the hightest notes in the stallion performance test (rideability 9,5, basic paces 9,0) and was most successful stallion in his year at the worldchampionship of the 5 year dressage horses. Fürst Romancier was in the final qualification at the Bundeschampionat second with a 9,0 before he became the fourth in the dressage worldchampionship. The mothers father Sandro Hit is known to all dressage horse breeders, he is convincing by his sportive successes (i.e. Bundeschampion and Weltmeister der 6 year dressage horses), and on the other hand he is known by his highly appreciated because of his pedigree (numerous Bundeschampions, dressage worldchampion, several licensing champions and descendents with world cup success).
In third generation, we see a double-reserve winner of the Oldenburg licensing after twice successfully attemdig the Bundeschampionship, he could be seen under dutch flag in dressage to intermediaire I countless, up to heavier classes highly successful horses of both disciplines.
From a breeding point of view was it possible for Fantastic to convince in his premier year without a doubt. He presented partakers for the German Foalchampionship in Lienen, Auction foals as well as winning foals in series. His descendents were very sought after on foal markets and one or the other came to well known stallion breeders. Several of his descendents were able to present these precious genes on different licensing places last autumn. By the unique impressions we were able to gather from Fantastic and with the successful breeding we are offering you a guarantor for modern dressage horse breeding.
Fantastic does not have a redness and is purely dark in his colour.
Gestüt W.M.GmbH, Buchholz 5a, 27374 Visselhövede
Tel. 04262-91 88 700 oder 0177-8510616