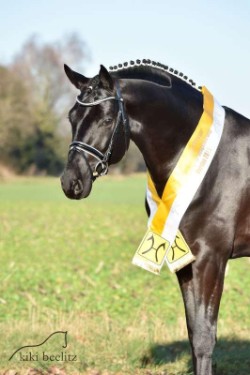 Finest
Han., Black, born 2011, height 171 cm,
Breeder: Andreas Trompeter, Sottrum
Cover Fee: 900,- Euro fresh semen
Frozen Semen: 500,- Euro per Portion
Approved for Hanover, Oldenburg, Rheinland, Westphalia
and all Sothern German breeding societies
The unforgetable "winner of hearts" in his licensing in Verden, siries winner in dressage horse tests and a foalmaker beyond compare!
After unique moments at the licensing in Verden was this convincing charmer a more than passable entrance into the breeding career. His foal years left nothing to be desired. There was hardly a foalshow where Finest did not have the winning foal. His charme, unique character as well as the three basic paces, blessed with the highest regularity, all this he certainly passed on to his descendents. So was it possible for several participants at the german foal championship in Lienen! Finest is so talked about – this is also seen in his auctionplaces of the different unions, one excellent prize chases the other. In view of the coming mare shows and the in autumn following Köraspiranten, Finest handwriting is guaranteed to give us much pleasure.
This career is being continued on the sporting level. After his 30-day-test in Münster (138 Points) Finest developed excellently and grew to be 4 year winner in series at dressage horse tournaments, with notes to 9,0. Not beaten in any of his starts he was also able to be the winner in the first qualification for the Bundeschampionship of the 5 years dressage horses. Here Finest received the third highest note of all qualified participants of the Bundeschampionship in his year.
Father Fürstenball starts in his young years – he himself being shinging winning stallion at his Körung, HLP Sieger, was Bundeschampion der 5 year dressage horses 2011 and confirmed his quality the following year 2012 with high ranks in the Land and Bundeschampionat as well as the WM of the 6 year dressage horses. He also trumped with highly successful descendents (winning stallion and OL Körung 2012, winning foal with the german Foalchampionship Lienen, best ranked foals in several auctionsplaces). The Mother Wie Princess aus der Trakehner Familie der Schwindlerin brought as frist foal the PB St. Moritz Junior into this world (premium stallion, HLP-Reservesieger and qualified for the BC of the 4 year stallions), followed by a full sister for this (St. Pr. St. Samoa, also in this well received black colour, with passed mare test average note 8,5) and then this wonderful little black horse came into this world by Fürstenball. Out of this more than 30 stallions came forth, numerous elite mares and uncountable premiered foals. Additionally, in the 4th generation there will be traditional hannoversches blood offered.
Finest does not have a redfactor and is so pure black in his sire.
Gestüt W.M.GmbH, Buchholz 5a, 27374 Visselhövede
Tel. 04262-91 88 700 oder 0177-8510616